Buying a New Construction Home (NC Listings): Best Realtor Tips
Are you considering buying a new construction home in the Triangle area of NC (Raleigh, Durham, Chapel Hill)? You may wonder, "Is a new construction home a good idea for me?" New construction is an excellent choice for buyers who want maximum flexibility in creating their ideal home. Once you're familiar with the pros and cons of new construction homes, you can make an informed decision! Let's dig in!
New Home Construction Definition & Ways to Buy a New Home
When most people think about "new home construction," they imagine working with an architect and builder to identify a property, design the home, and build everything from the ground up. You can choose from multiple home styles and sometimes even determine the acreage.
This process is known as building a "custom home." It is one of the three main types of new home construction.
Image by Paul Brennan, Pixabay
You can also buy a home that's already built but never occupied. These homes are known as "spec" homes and are essentially semi-custom homes where you will have some ways to tailor these homes to your taste and requirements. The modifications can be significant alterations to the overall size - changing the number of bedrooms or the size of the garage, adding a deck - or complete cosmetic changes, upgrading finishes, choosing cabinets, countertops, and paint colors.
The third type of new home construction available is a "tract" home or production home. These homes are usually similar in their exterior design, and although they may be nicely appointed inside, most of the decisions as to "look and feel" have been made by the builder.
Why Buy a New Construction Home?
New construction homes are appealing for many reasons, but come with additional costs and potential problems. Reviewing the pros and cons of new construction homes may help you decide what will work for you in your search for the perfect home.
Pros of Buying New Construction
There are many pros to buying a new construction house - let's run down a few!
Customization: Depending on the type of new construction building you're purchasing, you may have input on the floor plan, materials, appliances, and finishes.
Location: When purchasing a new construction home, buyers can often choose from various locations, which allows you the flexibility to find a house near work, schools, and shopping.
Lifestyle: Master or planned communities often include amenities like parks, pools, sports fields, and other community spaces.
Smart homes: Smart homes in new construction offer convenience, energy efficiency, improved security, and potential cost savings - you can control a range of features with a single device.
Builder warranty: New homes usually have a warranty covering any structural or mechanical issues that may arise during the first few years of ownership, adding peace of mind to your purchase.
Energy efficiency: New construction homes are often built with energy-efficient materials and appliances, which can result in lower utility bills and a smaller carbon footprint.
Modern design: New construction homes often have modern features and amenities, such as open floor plans, high ceilings, and state-of-the-art appliances.
Safety: New construction homes are built to meet current safety codes and regulations, which can make them safer than older homes.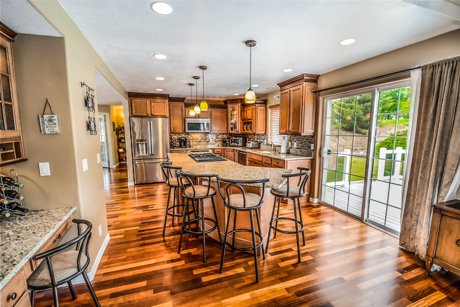 Cons of Buying New Construction
Here are some factors that make buying a new construction home less attractive.
Cost: New construction homes are often more expensive than existing homes due to the cost of materials, labor, and land acquisition.
Timing: Construction timelines can be unpredictable, and buyers may experience delays in completing their home, which can be frustrating and make it difficult to pin down move-in dates.
Appreciation:Your ability to provide a meaningful upgrade that will affect the value of your home is limited in the first several years, while you could provide immediate valuable upgrades to a lower-priced older home that boosts the sale price.
Possible commute: New construction of detached single-family homes often happens outside urban areas so commutes to jobs, grocer, and hardware stores may be longer.
Lack of mature landscaping: New plants can take several years to establish, resulting in reduced curb appeal, limited privacy, and the need for ongoing maintenance and expense.
How to Buy a New Construction Home
If you're leaning towards buying a new construction home versus existing one, use these tips to make the process as smooth as possible!
1. Work with a Buyer's Agent
A buyer's agent can provide valuable information about the builder, the neighborhood, and the local real estate market, which can help you make informed decisions.
In a new construction build, it is common for the builder to pay the buyer's agent commission rather than the buyer paying the agent directly. The builder typically includes the commission cost in the overall price of the home.
This means that buyers can benefit from the expertise and representation of a buyer's agent without incurring additional costs.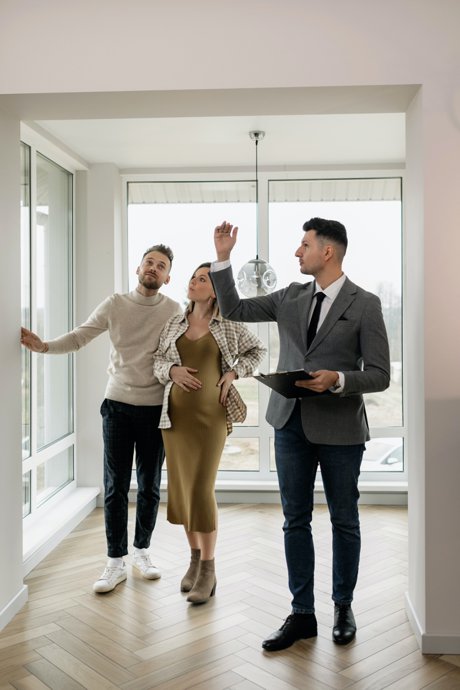 2. Obtain Financing with a New Construction Lender
Financing a loan for a new construction home differs from a conventional loan in several ways:
They typically have higher interest rates and require larger down payments.
Disbursements happen in stages rather than in a lump sum at closing.
The lender may require additional documentation, such as architectural plans, permits, and construction contracts to make sure the property is being built according to specs.
3. Research Local Builders and New Housing Developments
Research both local builders and national/regional ones. Look at their design styles and check their online reviews. When you're working with a buyer's agent (like us!), we can guide you based on our experience with these builders and the developments they've created.
That said, here is a list to start with!
Local
National/regional
There are a couple of new developments that have caught my eye lately! Starling Woods in Durham is in a really great location. The builder is Baker Residential, an excellent local builder. KB Homes is building a townhouse community in Chapel Hill that's also in a great area (Bridgepoint). If you're looking for new construction in Cary we also have a whole page dedicated to that as well.
4. Visit Model Homes
Visit model homes to get an idea of the builder's style and the available options. Ask about the upgrades, finishes, and available customization options. This will help you decide when it's time to select your home's features.
5. Negotiate the Contract
Once you've found the home you want, work with your agent to negotiate the contract. Review the terms and conditions carefully, including the price, payment schedule, and contingencies. Ensure everything is in writing and you understand the builder's warranty and maintenance requirements.
6. Conduct Inspections When Buying a New Construction Home
It's important to conduct inspections on a new construction home. This includes a pre-drywall inspection to check the plumbing, electrical, and HVAC systems before they're enclosed. Once the house is complete, conduct a final walkthrough with the builder to identify any issues or concerns before closing.
New Homes for Sale in the Raleigh, Durham, Chapel Hill Area
Now that you have a much stronger idea of the pros and cons of buying a new construction home and a view of the overall process, are you ready for the next step? New construction properties can be found throughout the Triangle: Raleigh, Durham, Chapel Hill.
If you're interested in buying a new construction home, view the listings below or contact us to schedule a showing!