10 Most Popular Home Styles in North Carolina
Prospective home buyers, especially those from out of state, often ask about the most popular home types in North Carolina. The good news is that we have a wide range of architectural styles represented in the Triangle area.
You'll find ranchers from the 50s and 60s and traditional homes from the 70s and 80s. If you are looking for older homes, there is quite a selection of homes from the early 1900s.
Here are the top 10 residential styles buyers will find for sale in Raleigh, Durham, Chapel Hill, and the surrounding areas. If you're looking to decide between a detached home or a townhouse / condo, we have a pros and cons page to help you decide on this as well.
1. Cape Cod & Colonial Revival Styles
The Cape Cod is probably the most popular version of the Colonial Revival style homes. The essential Cape Cod home was designed to withstand the harsh New England winters with steeply angled roofs to keep snow from piling up. Central fireplaces helped to warm the houses, and building materials were chosen that could withstand winter weather.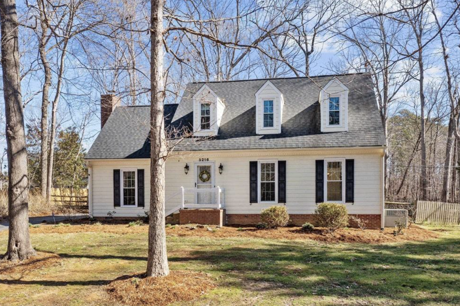 The Cape Cod is known for being unadorned, consisting of a simple rectangular cottage, usually 1 to 1-½ stories. The original versions only had two rooms, the main bedroom area and a living room, although the style changed to add more rooms over the years.
Learn more about these styles and find Cape Cod homes for sale in our area.
2. Modernist & Mid-Century Modern Styles
These two styles have much in common - clean lines, interiors designed around functionality, and complementary indoor and outdoor spaces. Both rejected ornamentation - arches, columns, symmetry - in past styles.
Photo credit: https://katherinehoganarchitects.com/
Modernist styles originated in the early 20th century, while mid-century modern design emerged post-World War II. Although modernist homes tend to be minimal in architecture and interior design, mid-century modern homes are not afraid of some decorative accents!
In a quirky bit of tradition and transition, modernist architect Frank Lloyd Wright trained many of the best-known mid-century architects.
Find modernist homes for sales here.
3. Victorian House Styles
Although Victorian homes come in several flavors - Gothic Revival, Italianate, Second Empire, Queen Anne - they share some common characteristics. Most have steep, gabled roofs, towers or turrets, decorative woodwork, and both functional and decorative windows. Victorian houses usually have high ceilings, often feature bright colors, and range in size from two to three stories. One of my favorite Victorian houses is below, located in Durham, North Carolina.
No open concept in this style! Each room had a specific function - books were in the library, the piano was in the music room, and guests were received in the parlor. Decorative wooden staircases are standard, as well as an elaborate entryway chandelier. Here are our Victorian homes for sale in the Triangle.
4. Tudor-Style Houses
Tudor homes draw inspiration from the Tudor era in 17th and 18th century England. Brick or stone exteriors with multiple overlapping gables, timbering, and elaborate stonework are hallmarks of these exteriors. The windows in most Tudor homes also recall medieval architecture, tall and narrow with multiple panes in rectangular or diamond shapes. Below we have a newer Tudor home located in North Carolina.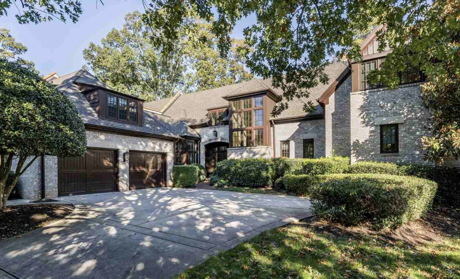 The larger Tudor homes look like an old English country estate, while the smallest versions look like they stepped out of a fairy tale. Browse Tudor homes in Raleigh / Durham and contact us for a tour.
5. Craftsman / Arts & Crafts House Styles
These two styles are often mistaken for one another, and the truth is, they are closely related. Arts & Crafts is really more of a movement than a style of architecture, a movement that celebrates simple forms, natural materials, and designs/patterns inspired by nature.
Craftsman architecture incorporated these principles to build simple homes with triangular-shaped roofs, exposed rafters, covered front porches, and tapered columns.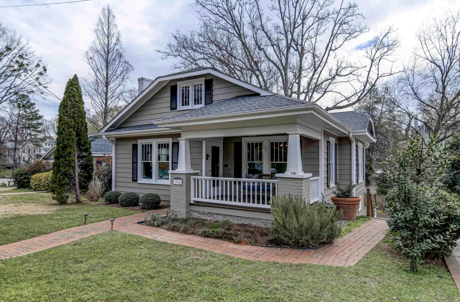 A home designated as an "arts and crafts home" might draw on several different architectural styles, but focus on handcrafted design and efficient use of space.
View Craftsman homes for sale to learn more about this style and see local listings or view Arts & Crafts homes for sale.
6. Bungalow Styles
Bungalow houses originated in mid-nineteenth century India, called "bangla," meaning "belonging to Bengal." The simple, informal designs were popularized in the U.S. by architect brothers Charles and Henry Greene of Pasadena, CA.
The style, basically a single-story house or cottage, sometimes features a second story built under a sloped roof. Bungalows often have dormer windows, verandas, interior built-ins, and tapered columns. They were sometimes sold as mail-order house kits and spread across the country.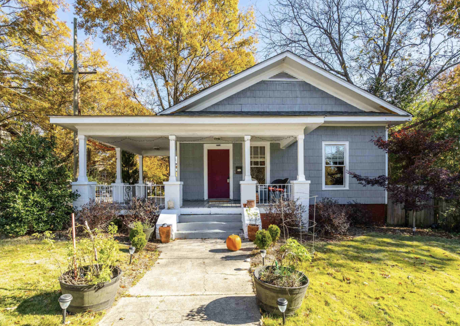 They are still a popular style today, and some of the original Greene and Greene bungalows sell for multi-millions.
Learn more about the bungalow style and find bungalow homes for sale.
7. Traditional & Ranch Styles
The traditional ranch-style house was so popular in the booming post-World War II middle class that by 1950, nine out of ten homes were built in this style. These houses were usually one-story with uncluttered floor plans, simple exteriors, and a large picture window or bay window on the front.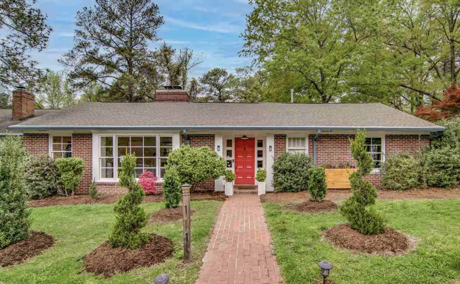 The original ranch homes were small in size but often situated on large lots that allowed families to add on as their needs for space increased. Today, ranch homes are very popular with seniors looking for one-story living and young families with small children who want to avoid stairs.
Learn more about this style and find ranch homes for sale.
8. Farmhouse Styles
As their name suggests, farmhouse style homes originated in agricultural areas and were designed around a farming lifestyle. For example, porches served the purpose of a place to clean off muddy boots. Wrap around porches loaded with rocking chairs is often a signature of the farmhouse style. The layout of the original farmhouse homes was that the family living spaces - bedrooms and kitchen - were in the back of the house with more formal rooms in the front.
Today, we call a farmhouse style house one that's built on a large lot with open living spaces, although they are no longer restricted to agricultural areas and look quite at home in a cityscape! The newer models of this style are still designed to emphasize functionality.
We also have some similar plantation style homes in our area with history dating back to before the Civil War. Some of these homes are open to the public with information and tours describing the owners and enslaved African American families who lived there.
Here is a link to check out our farmhouse style homes for sale in the Raleigh / Durham area.
9. Condos and Townhomes
Condos and townhouses are terms that are often used interchangeably by house hunters, but they are two separate entities.
In a condo, you own what's inside your walls and share joint ownership of the building and common areas with other owners. In a townhouse, you are more like the owner of a detached single-family home. You own the structure and the land, but you share common walls with other owners.
Condos and townhomes are often more affordable than single-family homes, which makes them an excellent choice for first-time buyers and those who want to avoid yard work!
If you're looking for Durham downtown condos for sale or Raleigh-Durham townhomes for sale, we can help you search.
10. Transitional Home Styles
Transitional architecture is neither modern nor traditional. Instead, it represents a new spin on classic styles and often uses several different types of houses combined! Some transitional homes might feature the tall skinny windows found in Tudor homes but built into the clean lines of a contemporary home. In North Carolina there are now more transitional homes than any other home style.
And it's perfect for people who feel confined by one style, who don't think their tastes are represented perfectly in one category. With transitional, you don't have to choose, and you can pick and choose elements from your favorite styles and call it your own classic Carolina home!
This is probably the most popular style in our area, so if you're looking for transitional homes for sale, you're in the right place.
A Mix of Popular House Types in North Carolina's Triangle
The good news is that no matter which one of these most popular home types in North Carolina you choose, chances are good that you will find it here in the Triangle.
Although transitional is very popular in the Triangle, many other types dot our landscape. From Victorians and Tudors to craftsman and ranchers, mid-century and modernist homes, your next home can be just one click away - contact us today.