Small Lot Options in Durham - Information and Inventory
Durham, NC is a great place to live and it's getting more popular by the day! Recently named (with Raleigh) as the 6th best place to live in the U.S. (by U.S. News and World Report), people are flocking to Durham for jobs, a great foodie scene, arts, and culture. Durham is developing a reputation as a tech hub, and attracting folks from the west and northwest who appreciate the lower cost of living - and the weather!
But this influx of people - Durham is currently a mid-size city of around 270,000 - comes with a housing crunch of both availability and affordability. In 2019, the city of Durham adopted an Expanded Housing Choice (EHC) project to deal with the increasing population growth, the preference for downtown living, and the limited number of available properties.
This kind of changing thinking in zoning options is meant to solve the issue of Missing Middle Housing. The intent is to bridge the gap between available housing and shifting demographics along with a growing demand for walkability to entertainment, dining, and recreation. So the Missing Middle represents both the lack of high-density diverse housing options not traditionally available in cities and also missing middle options between detached single-family homes and multi-level apartment buildings.
So for example, instead of having zoning rules that restrict development to single-family homes, the rules have been relaxed in many neighborhoods to allow both multifamily options and smaller-scale housing. Higher-density housing yields much needed options for more people to live downtown.
One that we're excited about in Durham is the "small lot option," which allows homes to be built on lots as small as 2000 square feet. You've probably seen homes in large cities like New York and Seattle build homes on small lots - some four or five stories tall. So small lots do not mean tiny homes!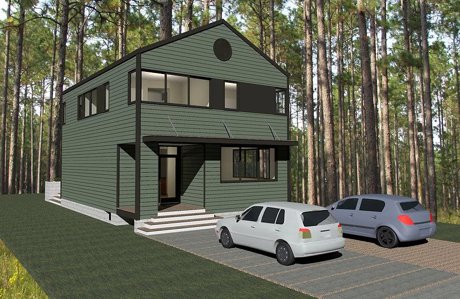 Photo courtesy of, and plans available from, www.distinctive-architecture.com
In Durham, the current guidelines say that a dwelling on a small lot can be no more than 1200 square feet. Setbacks are also adjusted for the small lot option, so a neighborhood that has had 15 feet side setbacks can be built with as few as 5-6 feet setbacks instead.
So who might be interested in small lots?
You really want to live within an easy walk to downtown Durham
Smaller lot homes are less expensive than the traditional homes currently in the walkable areas of downtown Durham. Yes, the downtown areas are still going to be more expensive than the farther out areas, but if this is your dream, giving up a larger footprint in both the lot and the home might be your best path.
For singles, new families, and empty-nesters, these size homes might be ideal to live near their preferred location. In addition to more affordability, some people choose small lot living to reduce their ecological footprint.
And it should be noted that although downtown Durham is getting a lot of interest for small lot homes, the same options are available in the suburban areas, too.
You see an investment opportunity
On a smaller lot, you have two choices for treating the property as an investment. Build a duplex and you can live on one side, rent out the other. You could also rent out both sides while you live somewhere else.
Photo courtesy of Sightline.com
Or you could build a 1200-square foot home to live in and then an Accessible Dwelling Unit (ADU) on the property to rent or Airbnb. Current Durham guidelines provide for an ADU of 800 sq feet on a small lot in addition to your primary residence.
You have a large lot and would like to monetize some of the space
If you're happy in your current home but would like to generate some additional income, you can carve out a small lot from your overall property and build a rental property or even an Airbnb space.
If you're ready to downsize, consider building a smaller house on the small lot and then rent out your current home.
You recognize that "small" doesn't mean claustrophobic
The truth is, with the right architect, the right plan, you can fit a lot of living into a small space! If you're thinking about buying a small lot and building a home, we recommend that you look for an architect that specializes in smaller houses on narrower lots. You want to find someone that can maximize the space you have creatively and effectively.
Some basic design principles that help maximize the space are open floor plans, vaulted ceilings, upper story light, and minimalist design elements that discourage clutter. Creative use of outdoor space is also a hallmark of good design for these projects.
We expect to see more and more of this new building trend in Durham and beyond. It may be that restrictions will be further relaxed; in other cities, for example, we often see fewer restrictions on the size of homes that can be built on these small lots. We will certainly keep you updated.